We are happy to present this quick snapshot of the GTA real estate market at the end of December 2017.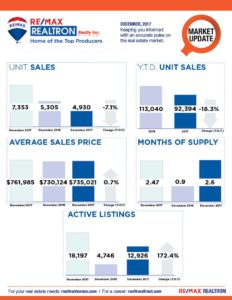 (Click on the image for a PDF version).
The graphs speak for themselves. Flat sales prices, a jump in active listings and over two and a half month's supply of housing stock we continue to see a dramatic change in the market.
If you're thinking of selling or if you know someone who could not get their house sold, we'll be happy to show you how we're still selling our listings for record prices in less than 1 week. 
Fill out the form below or call my office at 416 222 2600 and leave me a message. I'll call you right back.
The new mortgage rules will have a continuing impact on the market over the next 3 months. The fundamentals of the market have not changed though. The population of the GTA is expected to grow to 8 million in 8 years and everyone will still need somewhere to live, making real estate a great medium to long term investment. This build up of housing inventory will not last for long so, if you're planning to buy, now is the time to do so.