Below is an easy to read report on sales in the Toronto real estate market for the month of September. If you would like more details, more information about your particular neighbourhood or want to know the present market value of your home please contact me. Use the form below or drop me a note at max@remaxwynter.com. I'll be happy to help.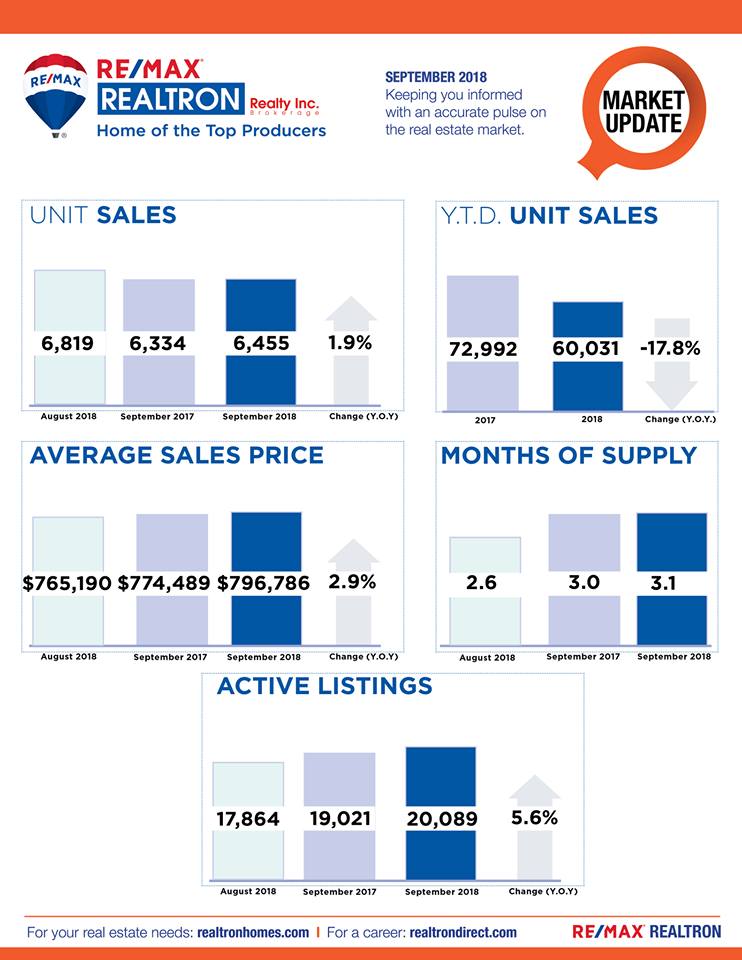 In summary, 6,455 homes sold through Toronto's Real Estate Board MLS® System in September 2018 – up 1.9 per cent compared to September 2017. The average selling price for September 2018 also increased by 2.9 per cent over the same period to $796,786.
The Toronto market continues to be very fragmented in terms of supply and demand with some areas experiencing a Sellers' market with more demand than supply and other areas experiencing either a Balanced or Buyers' market.
While higher borrowing costs and tougher mortgage qualification rules have kept sales levels off the record pace set in 2016, many households remain positive about home ownership as a quality long-term investment.
Statistics Canada projects that the GTA population will continue to grow and expand. Industrial growth, such as the move of Microsoft's HQ to downtown Toronto and the new 'cannabis economy' will create more jobs and attract more tourists. The real challenge in the housing market will be supply rather than demand and that will continue to make real estate a great investment.
The charts below show that the real estate market is different depending on style and location of the property.If you are considering buying, or know of someone who is, please give me a call, even just to bounce some ideas off of me. This type of market requires a full time, experienced professional in your corner, someone like me!